FREE COMPUTER RECYCLING AND WEEE DISPOSAL
Computer Recycling.
We recycle all types of computer hardware and redundant IT. If you have old IT equipment and hardware such as computers, monitors, printers and laptops etc then contact us today.
Hassle Free Recycling.
We make sure that recycling and disposing of your redundant computers is simple and hassle free. We take care of everything from paper work, collections and make sure your hardware does not end up in a land fill.
Professional Service.
We have a professional relationship with all our clients and ensure the work is competed to the highest standard possibly. We are Environment Agency Certified and are a licensed WEEE Recycler.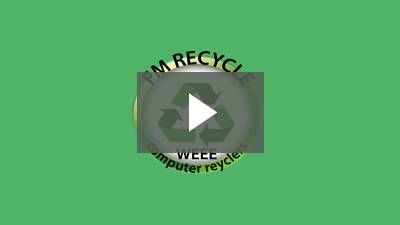 IT Disposal & Computer Recycling,
its what we do best…
Please view our short video about us & our services.
We hope you enjoy it.
 Please click the box on the left to view.
 Thank You
Computer Recycling Specialists
We Love to Recycle.

- FM recycle
Here at FM Recycle we have years of experience in all aspects of computer recycling. We have very strong relations with clients overseas and also have a strong in-house ICT repair team.
We care about the environment, so we believe that disposing of ICT hardware through landfills is a waste and that recycling and remarketing is most definitely the future.